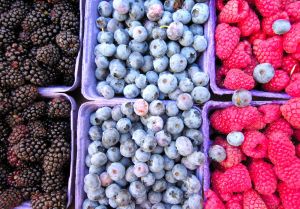 With three rental condo towers in downtown Vancouver surrounding Rogers Arena on the edges of Yaletown, Gastown, Chinatown, and False Creek, you can find almost everything you need within a few blocks of your home.  Aquilini Centre is the ultimate walkable community, and we want to share our knowledge of the area so you can see what makes it the ultimate live-work-play environment. Today we're exploring the best grocery stores around in downtown Vancouver!
Costco at Rogers Arena
Throwing an epic dinner party for friends? Or just really really really enjoy that one type of cereal? Costco is the ultimate place to stock up on groceries in bulk, and it's right across the street from Rogers Arena – a mere 6 minute walk. This means that Aquilini Centre residents are just a few minutes away from downtown Vancouver's largest grocery store. Oh and one more reason to go to Costco – SAMPLES! Need we say more?
Urban Fare in Yaletown
Shopping at Urban Fare is an experience in itself, whether you need groceries or just want to go for an adventure! A "fine-food lover's heaven", this store is filled with visually appealing displays and featuress – including some especially unique products, like the square watermelon! Urban Fare even hosted a square watermelon contest, which you can check out here. These types of fun initiatives and the welcoming vibe of the store will make residents at Aquilini Centre really feel like part of the community, at only a 14 minute walk away.
T&T Supermarket in Chinatown
One of the neighbourhoods surrounding Aquilini Centre is Chinatown, home to a rich array of delicious ethnic food. We highly recommend checking out T&T Supermarket, located on Keefer Place in the heart of Chinatown – just a 4 minute walk from Aquilini Centre – for all the Asian goodies you could dream of and more. Whether you're looking to get adventurous and whip up your own bowl of Pho, or just try a new Malaysian-inspired chicken curry that you've never tasted before, T&T in Chinatown has you covered!
Nesters Market in Woodwards Near Downtown Vancouver
Aquilini Centre backs onto the west end of Gastown, so for residents looking to venture into this neighbourhood for groceries, your primary option is Nesters Market in the Woodwards building. At only a 7 minute walk from Aquilini Centre, this is a great one-stop-shop for all your grocery staples in downtown Vancouver.
IF YOU WANT TO LIVE IN WALKING DISTANCE TO ALL OF THESE GROCERY STORES, DISCOVER AQUILINI CENTRE TODAY:
Okay, with all this talk about groceries, who else is hungry?! Get your tenant application in to Aquilini Centre West, the first of three rental towers going up around Rogers Arena, and you can live in the centre of all these amazing grocery shopping options. Plus, don't forget to check us out on Facebook, Twitter, and Instagram for a glimpse of what else living here offers besides fantastic grocery stores!